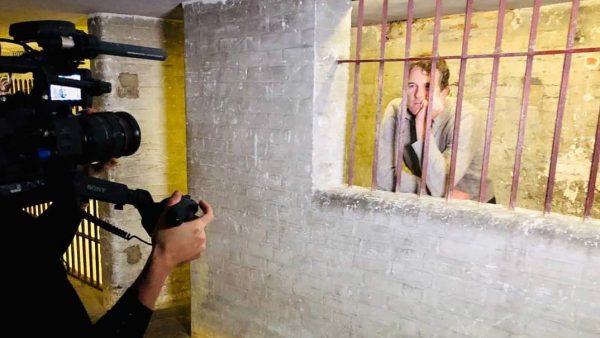 TV star Dan Snow visits Shire Hall Historic Courthouse Museum to film new History Hit show
TV star Dan Snow called Shire Hall 'one of the best' museums he had ever visited when he came to film in the historic courthouse.
Dan and his team spent the morning filming for his new History Hit TV show 'Snow on the Road.' The show will see the history fan travelling the length and breadth of the UK finding 'wonderful places of historical significance.'
Exploring the Georgian courtroom and the cells underground, as well as some of the hidden passages around the building, Dan said: "It's been a complete revelation. It's one of the best museums I have come to in ages. I'm here making a series about the wonderful places around the UK and some of my favourite heritage places. This is definitely one of my favourites – I urge you to come visit it."
One of the most striking aspects of Shire Hall Dan said, was how it directly related to the modern world. He said: "If you are a soldier on a battlefield, a farmer or a patient in a hospital, your experience is radically different to what it was 200 or 300 years ago. If you come here, I don't think your experience as an accused person is that different – that's really important.
"That's what museums and heritage centres are for. It's to go and find it intrinsically interesting and enjoyable, but also to really make you think about the modern world and this place has definitely made me do that."
The new series will be out later in the year on History Hit TV.
Shire Hall Historic Courthouse Museum on High West Street in Dorchester is open seven days a week from 10am to 5pm. To visit History Hit go to  https://tv.historyhit.com, or for more information about Shire Hall visit shirehalldorset.org.