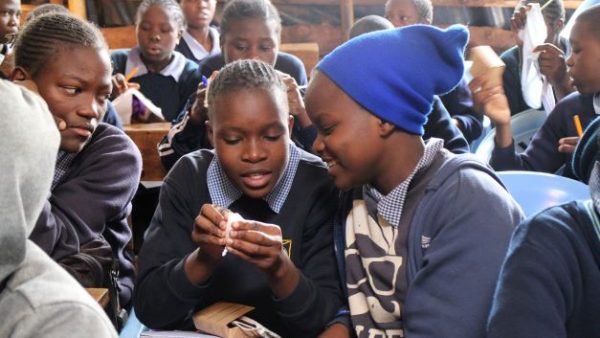 Wiley's Finest and OrganiCup partner to provide menstrual cups to end period poverty for girls in Ghana
From now until 1 October 2021, sustainable and ethical fish brand Wiley's Finest UK will donate 20% of sales of each bottle of its Beginners DHA and Elementary EPA to School in a Bag's Ghana initiative, which distributes bags filled with educational resources to disadvantaged children, and now OrganiCup will provide 400 menstrual cups to young women and their mothers through the programme.
A study found that 95% of girls in rural areas of Ghana reported missing school during their periods (Ghana-based NGO Sustainable Development Focus (SUDEF).
Across all of Sub-Saharan Africa, it is estimated that one in 10 girls miss out on school while menstruating, adding up to as much as 20% of a school year (UNESCO).
"No girl or woman needs to be ashamed of their period, nor should they miss out on vital education."
Soo Cieszynska, UK Brand Manager, OrganiCup
OrganiCup aims to reduce waste as well as end the stigma and shame around periods through education and awareness. The medical-grade silicone cups last for up to ten years and remove the need for sanitary pads and tampons, which often girls cannot afford.  
School in a Bag's Ghana initiative will distribute the cups. The charity creates SchoolBags from discarded water sachets; bags of water that Ghanaians use by ripping the corner off of the sachets with their teeth and squirting the water into their mouths. Often the sachets are then discarded in the streets, causing litter and blocking the storm drains which, in turn, causes flooding, the damage of farmland crops and disease through stagnant water.
School in a Bag works with Ghanaian company Trashy Bags who employ locals to collect and wash the sachets. They are then sewn into SchoolBags and filled with educational resources. 87 water sachets are used to make each bag. As a result, streets and beaches are cleaned, jobs are created, littering is reduced through awareness and many Ghanaian children receive vital educational resources. Without the charity, thousands of children would have no paper or pens to learn with – relying simply on memory.
Each SchoolBag costs just £20 and contains life-changing resources such as pencils, pens, colouring pencils, a math set, ruler, pencil case, exercise books, face mask and hygiene kit, water bottle, lunch box and Spork (a combined spoon and fork) and some of the charity's projects include a LifeStraw; a personal and reusable drinking device which removes bacteria, virus and microplastics, ensuring children can drink safe, clean water.
Wileysfinest.co.uk OrganiCup School in a Bag
THE FUNDRAISING PRODUCTS: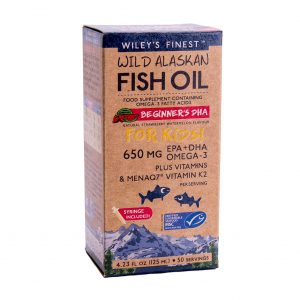 FOR TODDLERS: Wiley's Finest Beginners DHA delivers nutrients that support the development of young bodies, including healthy eyes and immune function. Each serving offers 400 mg EPA and 250 mg DHA, plus vitamin D3 and MenaQ7®, an advanced form of vitamin K2 for optimal bone development. Natural Strawberry Watermelon Flavour. It is available online and from independent health food shops and pharmacists across the UK. £29.99 for 50 servings. 20% of sale price is donated directly to School in a Bag. wileysfinest.co.uk
FOR SCHOOL CHILDREN: Wiley's Finest Elementary EPA provides essential vitamins and nutrients often lacking in the diet. Each serving offers 1000 mg EPA and 500 mg DHA Omega-3s fuel a child's healthy brain to focus and support their natural bodily defences, along with FloraGLO® Lutein and Zeaxanthin support eye health and vision and Vitamins A, D3, and E to support healthy skin and immunity. Natural Mango Peach Flavor. It is available online and from independent health food shops and pharmacists across the UK. £29.99 for 25 servings. 20% of sale price is donated directly to School in a Bag. wileysfinest.co.uk