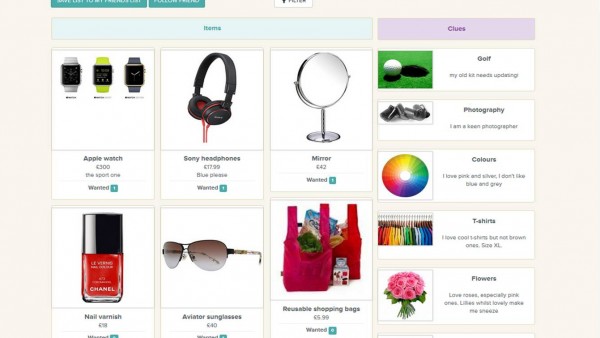 The secret to getting the perfect gift this Valentine's Day
MyGiftClues.com has revealed the secret to getting the perfect Valentine's gift. It's simple, yet incredibly effective – tell your partner what you want. But rather than specifying exact items and almost doing the shopping for them, there is a new way to leave hints. MyGiftClues.com is an innovative and free wish list site that allows you to leave a trail of visual clues hinting at your favourite things; meaning you still get a surprise at the end.
MyGiftClues.com is a treasure trove of desires all in one beautiful place. So this Valentine's, you might stoke imaginations by building a list that shows your favourite colours, brands, perfumes and chocolates, or the way you like to unwind; whether in the bath with a glass of Champagne or sweating it out in a spin class. You can have fun creating a collection of gift ideas, prioritise items and then share it with whoever you wish.
A list can contain direct links to items, complete with prices, from anywhere on the web or in real shops. Alternatively, lists can contain a number of clues hinting to an ideal present such as "new lingerie in these colours and sizes". It means partners don't have to keep guessing bra or clothes sizes and you get a genuine surprise (so no more awkwardly asking for the receipt).
It's easy to set up an account and create a list, such as "Valentine's" and then have creative fun by adding images, colour palettes, similar items or even dream experiences. Completely free to use, lists can be openly shared with family and friends through one simple email or social media.
The site is a free and useful tool all year-round. With even the trickiest of people to buy for using the site and sharing their dream gift lists, MyGiftClues.com also makes shopping for others far easier. It's simple to build a calendar of birthdays and special events and receive reminders to organise the perfect present ahead of time; banishing panic buying and unwanted gifts to the past.
A previous survey found that 78% of women would rather have a handwritten love note or poem penned for them, yet only 50% of men have ever written either. It looks like more women are set to be disappointed this year, as 21% of men say they choose to text-message their Valentine's, and 11% of men consider email to be romantic enough to communicate their affections.
Sarah Gow came up with the idea of MyGiftClues, she says: "Even though I've been happily married to my husband for 10 years, I realised that he probably didn't know what my favourite perfumes or chocolates were. I recognised that people needed a way to communicate their hidden desires without necessarily writing a complete shopping list."
For downloadable press releases and images please visit www.mygiftclues.com/treasuretrail
For further information or images please contact:
Jo O'Connell, JellyRock PR,                       E: jo@jellyrockpr.co.uk,                                M: +44 7977714787
www.mygiftclues.com                              Google+: MyGiftClues
Twitter: @MyGiftClues                             Facebook: MyGiftClues