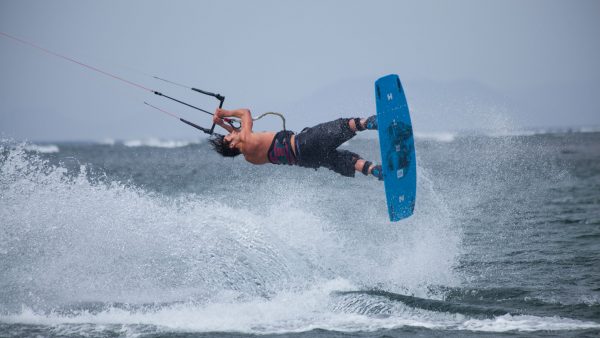 KiteWorldWide launches kitesurfing Slice of Life Clinics with Tom Court
KiteWorldWide, the kitesurfing travel specialist is hosting a series of exclusive kiting clinics this year with international pro kitesurfer Tom Court.
Tom Court has spent his life travelling to the planet's best kiting hotspots to compete in the world's toughest competitions. In 2018 Tom is leading six "Slice of Life" clinics with KiteWorldWide in Morocco, Sri Lanka and Brazil for people of all levels. A week-long holiday offers five days' of intensive training for those who want to progress quickly and enjoy expert training from the world's best.
Each morning starts with a fitness, yoga and nutrition session led by Tom's fitness instructor fiancée Sophie Mathews. Sophie takes guests through a "Fit for Function" workout that will get their bodies ready for a day's kiting on the water.
Tom then coaches kiters each day through one-to-one sessions, complete with video analysis so guests can watch their progress onscreen and learn how to overcome mistakes. Evenings are spent socialising and partying with fellow kiters in the close-knit communities that KiteWorldWide are known for creating.
Tom says: "There is no better way to progress in kiting that to spend an intensive holiday learning new tricks with a pro. Guests are always surprised at how quickly their kiting develops in such a short time. Plus, we make the Slice of Life clinics totally unique by coming together and having great fun off the water in the world's best holiday destinations."
Each seven-night stay includes five days' of private and continuous training, breakfast, lunch and dinner with water served at meal times, fitness training sessions each day, video analysis and photos, kite trips and downwinders as required, event t-shirt and North kiting prizes at the end of the week for the person who has progressed the most. Kite rental can be added as an optional extra.
Longer stay packages are available, or guests can join both clinics at the destination.
Slice of Life Clinic, Dakhla, Morocco, 2 – 9 June & 9 – 16 June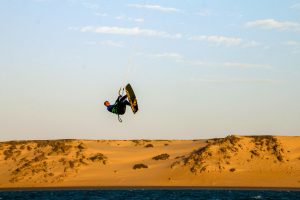 Dakhla is one of the best spots to kite in the world; a huge lagoon with flat warm water and consistent wind from March through to the end of November. Plus, the wave spot on the other side of the peninsula creates the perfect playground for kiters to progress and have fun in the water.
KiteWorldWide has its own boutique camp located with views of the lagoon comprising of six mini-villas and six riad-style rooms. The camp also has its own pool and spa. The mini villas can also cater for up to four people for those people who want to travel in a group.
Watch the Dakhla kite destination video
Prices, excluding flights:
Riad single/double pp: £1156/£1014
Villa single/double pp: £1487/£1183
Slice of Life Clinic, Kalypita Lagoon, Sri Lanka, 30 June – 7 July & 7 – 14 July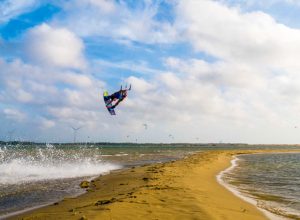 KiteWorldWide has a beautiful lodge located right on the edge of the huge flat-water lagoon in Kalpitiya, great for progression, with the ocean just the other side of the sand dunes. A host of other kite spots are easily reachable to explore and discover.
The lodge was built to a European standard but in keeping with the Sri Lankan style of large and spacious rooms with wooden furniture. Eight rooms look out across the lagoon and eight around the pool.
For non-kiters, Wilpattu National Park literally just around the corner, and day trips include a Jungle Safari, the UNESCO heritage site of Anuradhapura and dolphin and whale-watching.
Watch the KiteWorldWide Kalpitiya video
Prices, excluding flights:
Pool view single/double pp: £1288/£1000
Lagoon view single/double pp from £1322/£1020
Slice of Life Clinic, Tatajuba, Brazil, 27 October – 3 November & 3 – 10 November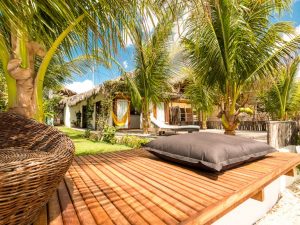 Tatajuba is a secluded spot surrounded by sand dunes in the North East part of Brazil. Kitewordwide Pousada, with its pool, restaurant and palm garden, is right next to a lagoon with the ocean on the other side. Brazil offers the perfect combination of great conditions – flat water, waves and wind as well sunshine and an unbeatable nightlife.
Prices, excluding flights:
Kitehouse Single Occupancy is £1319 : Double Occupancy is £1226
Bungalow Single Occupancy is  £1524 : Double Occupancy is  £1170
About Tom Court
Tom Court from the Isle of Wight has been kiting since he was 11 years old.  He is part of the North Kiteboarding International Team and became a KiteWorldWide team rider in 2017.  He is known for his progressive style of riding and is constantly developing and refining the sport. His numerous videos that are well-known in the kitesurfing community. Tom's videos always show both sides of a pro kiter life: a lot of fitness and training on the one hand and endless parties on the other.
Web address; www.kiteworldwide.com/en/
Instagram: @kiteworldwide
T: 020 36085 777
E: info@kiteworldwide.com