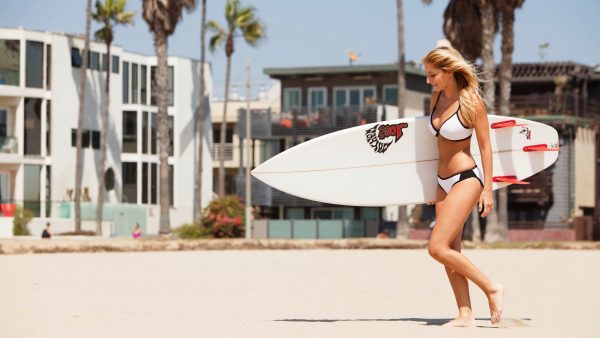 Entrepreneur Cherry Harker, 76, launches iconic sports swimwear brand
ZwimZuit – the fitness bikini that stays in place
At 76, Cherry Harker isn't your usual entrepreneur. She has clothed Kylie Minogue and Lily Allen, beaten cancer twice, and is now shunning retirement to fulfil her lifetime goal by launching the sports performance swimwear brand ZwimZuit.
With an acute eye for fashion, Cherry, together with her daughter Tamarisk, a costume designer based in London, has created a range of fitness bikinis that suit active women with natural curves. The specialist neoprene material enables women to be as relaxed or active as they want to be, and not have to worry about a wardrobe malfunction.
The daughter of Rolls-Royce's first test pilot, Ronnie Harker, Cherry used to holiday in the late 50s and early 60s in the South of France – Monte Carlo, Nice, Cannes and St. Tropez, alongside icons Grace Kelly, Brigitte Bardot, and the notorious Christine Keeler, as well as writer Simone de Beauvoir, and artist Jean Cocteau.
While enjoying an era of high glamour, Cherry loved wearing bikinis. However she found that as soon as she did anything active, such as waterskiing, she narrowly avoided embarrassing slippage. Cherry says: "I pretty much learnt how to water-ski one-handed; one hand on the tow-handle and one hand holding my briefs up".
20 years ago Cherry suffered from breast cancer, and then five years later was diagnosed with cervical cancer. Her husband John says with immense pride that she is "a fighter". Cherry believes her experience with cancer has focused her mind to achieve more – no matter what her age.
Since then Cherry launched a boutique clothing brand ChicFreak with her daughter Tamarisk and husband John. The sought-after vinyl and lace "Le Mac" was featured in Vogue, worn by Kylie Minogue in her music video "Kiss Me Once" and Lily Allen in her video "Hard Out Here", as well as seen on a number of celebrities including Perrie Edwards, Jameela Jamil and Amber Rose.
No-one knows swimwear as well as Cherry; she has seen every swimwear fashion change over the last 60 years. Cherry also understands what women want; confidence, a flattering cut, the hottest style, and trust that a bikini stays where it should.
And so, rather than withdrawing into dull retirement, Cherry has decided to use her expertise to create a sports performance and fashion swimwear brand for the action girl.
Cherry designed the bold, panelled bikinis with her clothing designer daughter Tamarisk. A breakthrough came when Cherry found one of the few remaining specialist swimwear makers in the Poole, Dorset, close to where she lives in the New Forest. It's a true family business with Cherry's husband looking after the commercial side of the business – taking care of the orders and global dispatch.
ZwimZuit has proved highly popular on social media. Made In Chelsea's Louise Thompson has photographed herself wearing hers in her yoga work outs. Cherry says: ""it's such a thrill to see girls from the U.K., U.S., Europe, Australia, and all over the world, wearing our British designed and made swimwear – particularly when they tag us #zwimzuit, in their selfies".
Instagram @zwimzuit
Twitter @ZwimZuit